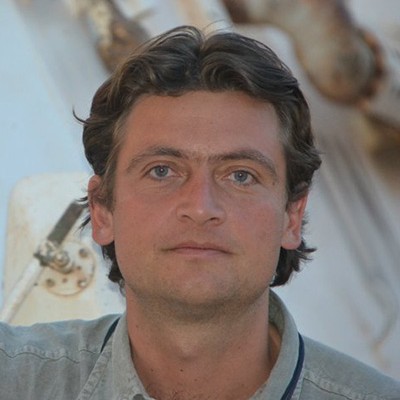 Filon Morar – a Romanian pioneer in peacebuilding from the Caucasus to the Euphrates
Filon Morar has (almost) not missed a conflict site around the world – out of a passion for peacebuilding though, not for war. He confesses he prefers the adrenaline and the eye-opener effect of being out and about, among people of different cultures and experiences, to the comfort of an office.
He was the first Romanian diplomat to take up a high-level job in an EU peacebuilding mission abroad: at the age of 34, he became the deputy chief of field office Tbilisi of the EU Monitoring Mission in Georgia dispatched in the wake of the Russian invasion of the country in 2008. He had joined the mission on very short notice, only two weeks after returning from the Permanent Mission of Romania to the UN in New York.
The EUMM itself was a learning experience for the EU – assembled in a matter of days, on the basis of voluntary contributions from the member states, it provided a valuable opportunity for Romania as a new EU member to showcase its military and policing experience, while helping a politically important country in the region. It also gave up-and-coming Romanian diplomats the opportunity to develop their peacebuilding skills and it was the first time civilians worked alongside army people. Among them, civil society activists like Alina Doroftei, who had previously implemented NGO projects in Georgia and Azerbaijan or Alexandra Martin, who was on her first 'tour of duty' abroad, one of many to follow, as the experience proved life-changing for many of the participants, who have since made it a life mission to ease conditions for the local populations in conflict-ridden areas.
Filon Morar himself continued his work far away from home. He led the successful evacuation of not only Romanian citizens but also of numerous citizens of other Western states from post-Ghaddafi Libya in 2011, as Romania was one of the very last countries to keep its embassy open to the very last minute before the total outbreak of conflict. He stayed behind as head of the UNEST regional office of the UN Mission. He served in the UN mission to Syria during the initial phase of the war. He was an elections observer in Afghanistan, Iraq, the Sudan. He is now in Ukraine, as head of the UN Political Affairs Department.
Writing for GlobalFocus' special supplement to FP on Romania as an International Donor, he prescribed five directions for Romanian development policy: the first was a national roster of experts ready to be deployed and who should receive regular training. Other recommendations were to draw and further build upon Romanian elections observation and penitentiary reform experience, to expand our field medicine and healthcare intervention in conflict and post-conflict areas following positive results in treating the wounded in Libya; to make the best use of government scholarships awarded to students around the world who become good ambassadors for Romania and members of the reformist elites in their respective countries.
Women at war – against prejudice
Mădălina Vlangar is a police woman and she's not a 'softie' even by the standards of her profession. From the very beginning, her work has been in areas such as combating organised crime, human trafficking and cross-border crime. She was the first police woman to be part of the first Romanian national police contingent deployed to East Timor under the UN mission. She was also senior counter organised crime advisor to the OSCE mission in Kosovo, where she helped build the capacity of local police forces to investigate serious organised crime. In Romania, she coordinated processes for protection and reintegration of victims of human trafficking. As the current Law Enforcement attache to the Romanian embassy in Madrid, she featured in international media not long ago after contributing to the dismantling of an important network of traffickers in human beings.
She is married to a police officer who has spent his own life sharing his law enforcement expertise from Liberia and Darfur to Somalia and Haiti and Niger – more often than not in a different place from his wife. And yet they have managed to raise together two daughters (one of whom travelled to Kosovo before she was even born, as her mother dared break gender prejudice by serving there after the conflict, even as she was pregnant).
Ana Oprișan has seen virtually every form of human suffering, of man-made and natural disasters and has worked tirelessly to ease their consequences. She has managed the international operations of the International Blue Crescent Relief and Development Foundation in part of Asia, she travelled to Kashmir after the 2005 earthquake (where she spent 3 years and a half, of which 7 months in a military camp), to Bangladesh after the Cyclone Sidr in 2007, to Myanmar after the Cyclone Nargis in 2008, she has overseen relief efforts for the Iraqi refugees in Syria between 2008-2009 and for Palestinians after the 2009 war in Gaza. She was head of the IBC mission to Bam (Iran) after the earthquake in 2004-2005, where she was in charge of psychosocial support centres for 350 children in 5 camps. She has worked on Roma integration issues in Romania and Turkey, both at policy level (as advisor on EU-funded programmes) and doing field work. She's preparing a PhD at SOAS (School of Oriental and African Studies) in London, speaks and/or understands 8 languages and currently works as part of the team of the Council of Europe Special Representative of the Secretary General for Roma issues, leading ROMACT – the joint programme European Commission and Council of Europe currently implement in six countries (70 municipalities) for improving the situation of Roma minority.