9 January 2023
This report will be looking at recent evolutions in the share of voice of the main pro-Russian actors on Facebook. It is important to note that the main voices who promote toxic narratives about the war in Ukraine are, by and large, the same voices who promote far-right narratives and the same people who have promoted anti-vaccination narratives. All these narratives generally align with the Russian interests in Romania. The purpose of Russian information operations is not necessarily to sway the Romanian population to regard the Kremlin's actions favourably, but rather to sow discord within Romanian society and between Romania and its allies. As such, it is relevant to also look at their relative influence more broadly, as we do in this report.
As the year 2022 was closing, we could notice an evolution in the general hierarchy of pro-Kremlin voices on Facebook. Diana Șoșoacă, who is openly pro-Kremlin, has had a dramatic fall in audience since the beginning of the year, possibly because of shadow banning. She is still present at Zeus-TV, which is host to most of the major far-right voices and her group of supporters on Facebook ranks typically among the top 10 channels promoting toxic discourse in our monitoring.
Zeus TV, which has had a steady growth in impact, has surpassed first the veteran Gheorghe Piperea and, in November, George Simion, the leader of the far-right party AUR, becoming the most impactful far-right and pro-Kremlin voice of the month. All three have evolved more nuanced pro-Russian positions, generally preferring to be very critical of Ukraine rather that praising Russia.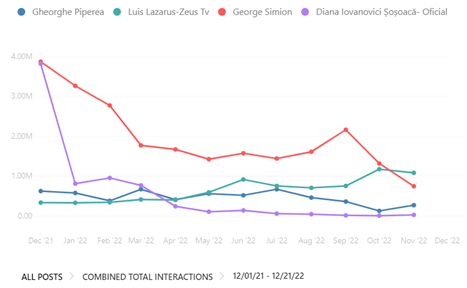 Evolution in 2022 of the main far right actors on Facebook. Data and graph: Crowdtangle.
When noting the decrease in influence of the AUR leader, one must also take into account that there has been a diversification of AUR channels, which makes the information ecosystem of the party channels more resilient. This ecosystem includes on Facebook: 4media.info and 60m, which are essentially the party-aligned online newspapers, the (somewhat unsuccessful) account of Claudiu Târziu (co-chair of AUR), the far more successful account Premierul nostru (Our PM), the formal party web page and dozens of local party pages. Many of these Facebook accounts have Telegram counterparts that are not presented here due to restrictions of space

Presence of extremist voices in the Schengen debate
In the Justice and Internal Affairs Council of December 2022 Austria vetoed the full accession of Romania and Bulgaria into the Schengen Space. That took many Romanians by surprise and generated strong reactions, including calls for boycott. During the following debates the information space was dominated by the far-right and particularly by channels associated with AUR, as seen in the graph below (circled in red).
Facebook: Total interactions for "Austria", "Schengen" and related terms, 2-16 December, top 255 pages
AUR-aligned accounts are marked in red.
Another significant beneficiary of the situation is the ultra-conservative MEP Cristian Terheș. Notably among the far-right voices active on the Schengen issue, he is not pro-Kremlin.
Convergence of radical and mainstream discourse
On the issue of foreign policy, there had been a clear distinction between mainstream and radical discourse. On the Schengen issue this difference was obfuscated – xenophobic/populist and liberal voices were in an uneasy position to formulate similar requests including popular boycott and (in some cases, borderline-illegal) fiscal sanctions of Austrian-held companies in Romania.
Both Rareș Bogdan (National Liberal Party) and Gigi Becali (populist) called to boycott Austrian-held banks and gas stations. Mainstream ecologist Mihai Goțiu and online pro-Kremlin personality Iosefina Pascal brought back to attention old scandals related to Holzindustrie Schweighofer, which had controversial wood acquisitions in Romania. Old (and arguably dubious) stories of privatisations of state companies to Austrian investors were also re-discovered and Austria was accused of using the Schengen issue to extort commercial advantages and access to Romanian natural resources.
Several of these themes were the stock-and-trade of xenophobic discourse; pro-Russian and sovereignist actors have used this in the past against the EU. Some of them have also been used by nationalist leaders from the (mainstream) Social Democratic Party, like former party presidents Victor Ponta and Liviu Dragnea,
Significance of findings
George Simion and Diana Șoșoacă are often seen as the most dangerous among the far-right, anti-Ukraine and pro-Kremlin voices. However, in light of recent developments, this image needs to be adjusted to include newcomers like Zeus TV. Also, the diversity of the AUR propaganda channels needs to be taken into account by any future strategy that aims to oppose toxic discourse and disinformation promoted by the AUR.
Equally, or perhaps more importantly, the dominance of the far-right and pro-Kremlin in the Schengen debate is a cause for renewed concern. Since February the Romanian public has shown resilience against pro-Kremlin voices. According to recent polls 0% of Romanians believe immigration to be the country's most important problem while 65 percent of the population are concerned with the possibility that the war could extend to Romania. Even in the more sensitive issues related to energy, the performance of AUR was limited at best.
It is likely that the far-right and pro-Kremlin voices will try to use their newfound access to the public to increase the credibility of their other messages and narratives.
–
You can consult the methodology for this report here.

Supplement: Main actors / accounts in this report
4media.info (web, Facebook) – AUR-aligned news site
60m.ro (web, Facebook) – AUR-aligned news site
AUR – Alianța pentru Unirea Românilor (web, Facebook): the main far-right Romanian party, having won 9% in the last parliamentary elections in 2020. The party has had anti-vaccination positions, is revisionist in relation with the Republic of Moldova and has been a critic of EU, Ukraine and Romanian/EU support towards Ukraine,
Claudiu Târziu: co-chair of AUR, has revisionist positions that relativise the crimes of the Romanian Legionnaire Movement (interwar fascists).
Diana Șoșoacă: MP, lawyer, former member of AUR, former spokesperson for the Orthodox Archdiocese of Tomis (which was a major voice speaking against COVID-19 vaccination). She is one of the very few MPs who visited the Russian Embassy during the war in Ukraine,
George Simion: MP, leader of the populist party AUR, football gallery founder and militant for a union between Romania and the Republic of Moldova. See more details on Eastern Focus.
Gheorghe Piperea: lawyer and online influencer; known for the successful restructuring of the major state-owned energy company Hidroelectrica and a successful class action against major Romanian banks.
Luis Lazarus / Zeus TV: Luis Lazarus is a former host at OTV, the television that launched the populist politician Dan Diaconescu People's Party to parliamentary success in 2012. Currently manages the Zeus TV video-based Facebook account.
Premierul nostru (Our PM): Nominally a page dedicated to the search for a good prime-minister for Romania, it has featured extensively messages from George Simion and, recently, comedian Mugur Mihăescu.
This report is part of an international research project financed by USAID, coordinated by the International Republican Institute's (IRI) Beacon Project on countering Russian Disinformation and Propaganda. The opinions expressed are solely those of the authors and do not reflect those of IRI.